Gold rules in India
The preference of Indian consumers for traditional low-margin gold jewellery products is based on long entrenched cultural drivers...that is not about to change. Gold forms a bond of affection from generation to generation. It has been central to the celebration of marriage in India for a very long time.
Gold in India is also universally valued a store of wealth. That is the other major driver of demand. Gold jewellery products provide a tangible way to preserve wealth while at the same time serving the cultural function of providing decoration and displaying wealth. Indian consumers will always favour gold above other jewellery materials because of its dual role.
Nevertheless, rising purchasing power gives them the opportunity to buy complementary jewellery such as platinum jewellery and diamond jewellery.
Overall, society in India is modernizing and becoming less traditional. Consumers have shown a willingness to amplify traditional demand for gold jewellery with purchases of jewellery made from other precious materials like diamonds and platinum. At steady gold prices, demand for such products will grow faster than demand for gold jewellery products simply because it is still in the nascent stage.
Push factors helping consumption of complementary jewellery in India
Push factors in recent years have had greater impact on consumption trends of alternative jewellery in India. For the most part, the product mix for jewellery retailers is a key determinant of profitability.
Consequently, the quest for greater margins is driving retailer diversification from gold jewellery products since gold margins are low and standardized because of the adornment+investment factor.
Therefore, on one hand, gold jewellery sales - for weddings, in particular - will continue to generate volume growth for jewellery retailers. On the other hand, platinum and diamond jewellery sales will generate margin growth.
In particular, the shift to more profitable diamond jewellery has been smooth because India is the world's dominant processor of rough diamonds. India has almost a monopoly position in the processing of small size and small value diamonds.
Nevertheless, selling diamond jewellery is comparatively complex because it requires consumers to have at least passing knowledge of the 4Cs of diamond jewellery - colour, clarity, cut and carat. Without doubt, this has been a significant barrier to sales growth in India and other nascent diamond markets since diamond jewellery is traditionally expensive.
Fortunately, establishment of organized retail chains in India has given Indian jewellers the platform to educate consumers about diamond jewellery. Furthermore, the introduction of certified diamonds has increased trust and made diamond valuations more transparent.
Exhibit 1-1: Gold and diamond jewellery demand by region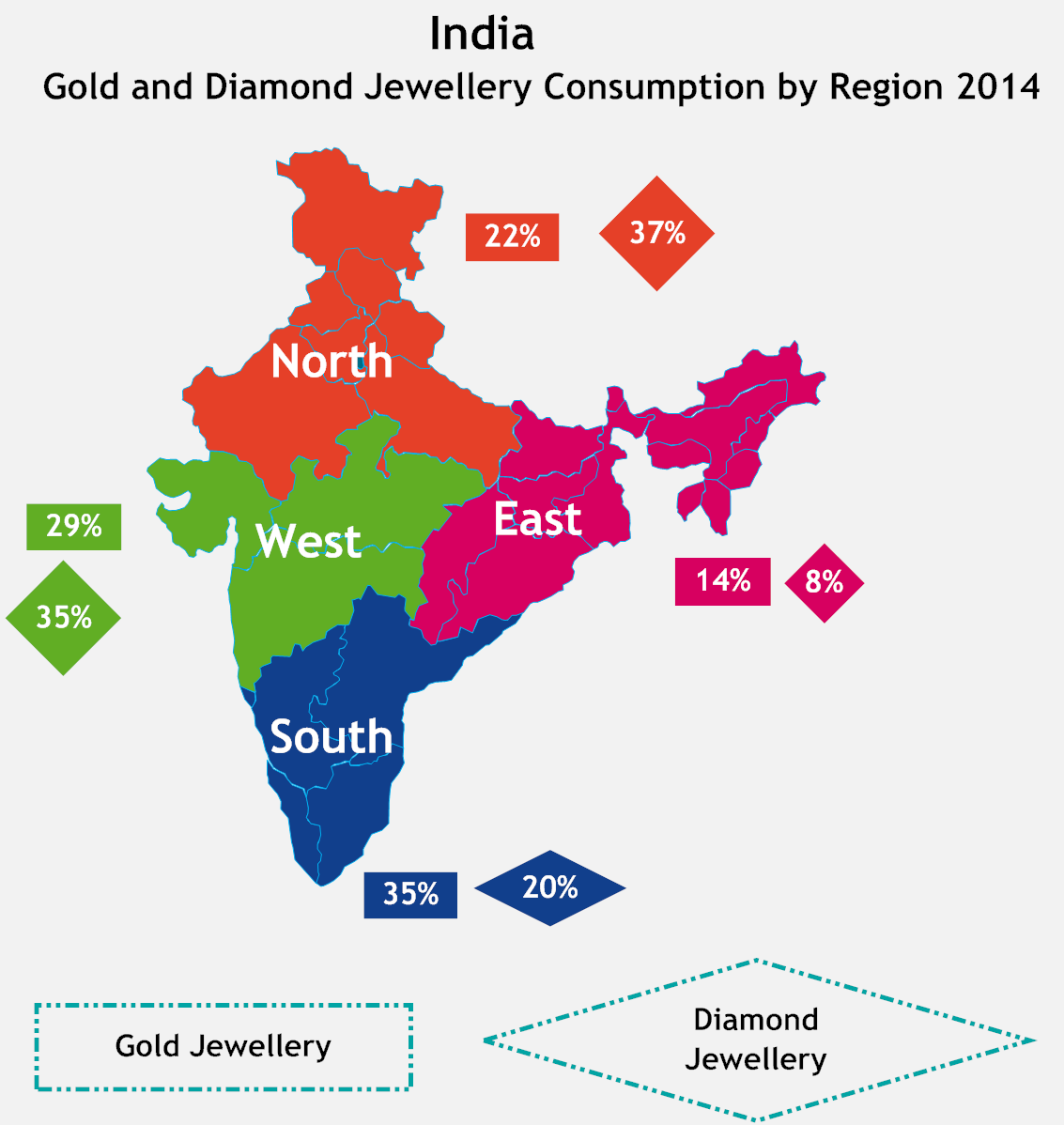 Source: Equity Communications

Links to Pages on India Jewellery Market