Diamond Jewellery Price Trends
Exhibit 8-2: Polished diamonds production outlook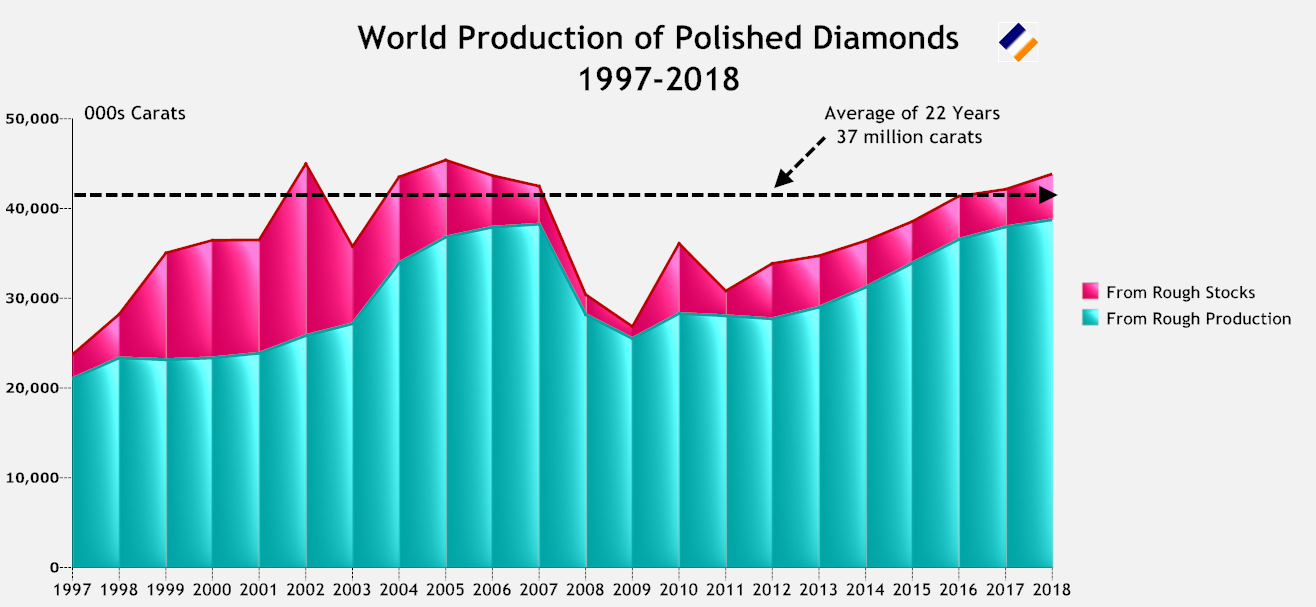 Source: Equity Communications
The next five years will witness surplus supply for most types of diamonds. This will add to global stocks of polished diamonds stored in the pipeline. Global supply of diamonds will plateau sometime within the next decade. However, what we lose in quantity is being made up for in quality. These two events will offset each other for at least the next fifteen years.
Our view is that polished diamond traders will adequately meet demand from jewellery manufacturers and retailers. Therefore, polished diamond prices will likely maintain their steady and very gradual growth path.
Polished diamond production has been in annual surplus for nearly two decades and more diamonds are piling up in the pipeline. It would likely require three to four years of zero production to clear global polished diamond stocks.
Diamond Jewellery Consumption Outlook
For the most part, diamonds of the cheaper variety are becoming more prevalent within day-to-day jewellery pieces as they offer flexibility in terms of style and colour, often adding a more contemporary feel to a look or outfit. Consumption of diamond jewellery could move away from the adornment+investment category and towards the adornment only category.
Retailers have been trying to grow share of diamond jewellery to at least 40 percent of sales, as this would greatly improve profit margins. However, the goal has so far proved elusive because gold jewellery sales have also been growing at a remarkable pace, fuelled by significant gold price inflation. Nevertheless, it could now happen with steadier and lower gold prices.
Diamond industry stakeholders in India have shown us the potential of fashion diamonds. They are taking diamonds to the mainstream, allowing people of all economic levels to purchase diamond jewellery. Jewellery manufacturers are innovating and producing fashionable diamond jewellery that is cheap by world standards but targeted at the middle class in India.
Demand for such products – diamond accented jewellery - is strong and growing in leaps and bounds. Trendy lightweight designs, guaranteed buy-back schemes, transparent pricing, and availability of quality certification have all boosted sales.
The quality of cheap diamond jewellery produced has improved dramatically in the last three years. Nevertheless, development of the high-luxury jewellery segment in India is constrained by the critical unavailability of suitable real estate.

Links to Pages on India Jewellery Market