Gold Jewellery Price Trends
The 2013 gold rush reaffirmed what we have always understood about consumption of jewellery in India and the timing of jewellery purchases. That is, investment considerations are the dominant purchase trigger.
Essentially, this means that sales of jewellery in India are regulated by the buying power of consumers.
Indeed, when the price of gold first plunged to levels last seen in 2010, consumers quickly saw this as a buying opportunity and rushed to make purchases. Many reasoned that the dip in gold prices was an anomaly and therefore expected gold prices to return to their long-term upward trajectory.
Consequently, Indians who had the capacity to bring forward planned jewellery purchases decided to buy immediately after the gold plunge. However, those who brought forward gold jewellery purchases likely did not make any additional purchases in the second half of 2013, as shown by the subsequent decline in gold demand.
Nevertheless, the most important lesson we got out of the events of 2013 and 2014 is that current capacity for annual consumption of gold jewellery in India has a ceiling that we put at 650 tonnes.
According to our interpretation of gold consumption patterns in India from 1997 to the present, if consumers are not expecting the gold price to increase in future, the dominant purchase trigger (investment consideration) takes a back seat and demand for gold jewellery becomes more muted. At steady or less volatile gold prices, investment considerations are set aside and consumption occurs mostly to fulfil cultural requirements for weddings and festivals.
Gold Price Outlook
Exhibit 8-1: Gold price outlook 2013 to 2019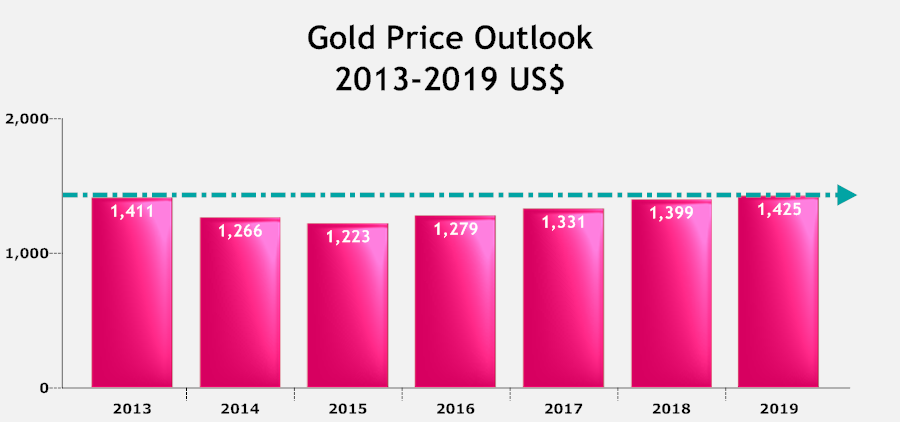 Source: Equity Communications
There is currently lower investment demand for gold in the leading world economies. This has suppressed gold prices. Moreover, gold prices are forecast to remain subdued for at least the next two to three years. US interest rates are expected to go up in the coming years and further reduce the appeal of gold relative to other investment assets and support lower prices.
Gold Jewellery Consumption Outlook
Gold prices are not expected to rise considerably in international markets. Since investment demand for gold jewellery responds more positively to expectations of higher prices, consumption triggered by gold price movements is likely to be weaker going forward.
Having said that, India has been battling persistent inflation and the local currency remains under pressure versus the US dollar, thus supporting the price of gold in rupee terms. For this reason, Gold will continue to be an excellent hedge against high and sticky inflation in India and this could help prop up investment demand.
Gold demand for cultural events and weddings is perennial so it should hold steady even in the absence of expectations of higher prices for gold. Intensity of gold purchases for such events depends on consumer buying power.
In the final analysis, our view is that gold jewellery sales in India will experience slower growth in the period 2013-2016 than in the period 2009-2012. The culprits will be ongoing weakness in consumer spending because of persistent inflation, lower real wage growth and a poorer macro-economic environment.
2015 might also surprise on the downside because of the forced early redemption of running gold buying schemes of jewellery retailers. Normally, such schemes have been popular with customers because they make costly gold jewellery pieces appear more affordable to financially constrained consumers who get to spread out the buying process over many month. Our view is that it will likely take a while before the re-introduction of jewellery buying schemes gains foothold in the market.

Links to Pages on India Jewellery Market