India Economic Trends and Jewellery Consumption
This is not an economic report on India. However, socio-economic and cultural conditions people face when making lifestyle decisions matter a great deal in the consumption of precious jewellery.
In India, people are expected to buy jewellery for weddings and for certain important cultural occasions. Indeed, for such occasions, demand is quite inelastic and intensity of purchases is limited by consumer buying power.
If the event or occasion demands gold jewellery, millions of Indians go ahead and buy 22 karat gold jewellery in minuscule weights/grammages if that is what they afford at the moment of consumption. Consumers are accustomed to buying products and services in small, affordable portions rather than foregoing consumption of costly goods.
And that is why GDP/capita has the biggest impact on the value and intensity of jewellery purchases.
Exhibit 6-15: India nominal gdp per capita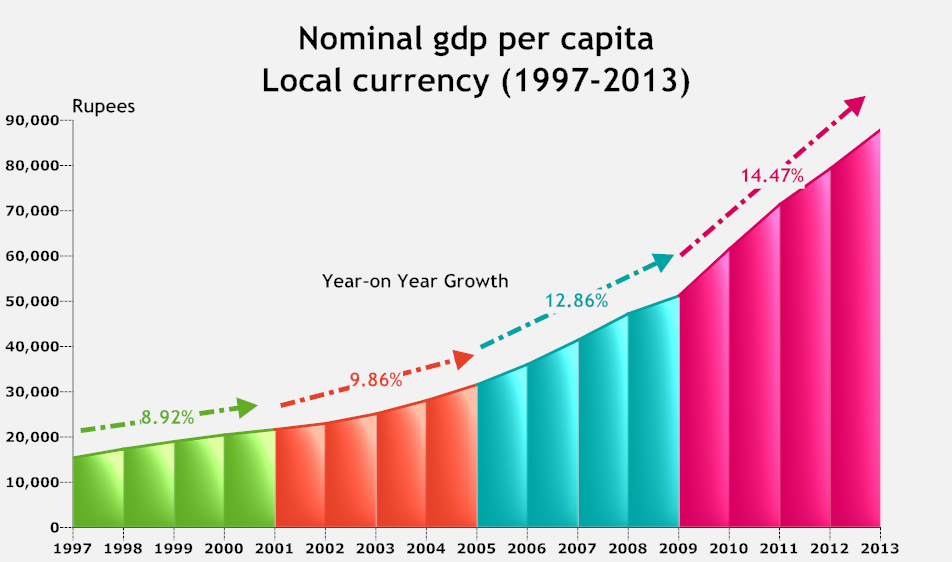 Source: Equity Communications
Exhibit 6-16: India GDP per capita growth likely to remain at current pace for at least the next five years
Source: IMF WEO Database October 2014, Equity Communications
India is unlikely to divert from its current growth path so we do not expect significant diversion from current precious jewellery consumption patterns.
India's socio-economic structure will continue to favour the investment+adornment model of jewellery consumption. In other words, gold jewellery will likely remain commoditized since consumers make purchases for both adornment and investment purposes. Consequently, margins available to gold jewellery retailers are expected to remain low and standardized.
Of course, such a backdrop provides jewellery retailers with a strong incentive to diversify into other precious jewellery categories like platinum jewellery and diamond jewellery for a chance at higher gross margins.
Indian consumers typically monitor carefully movements in the price of gold when making purchases. For this reason, jewellery manufacturers and retailers have limited leeway (margin freedom) in the pricing of gold jewellery pieces.
However, consumers are less wary about movements in the price of platinum and diamonds. Therefore, Jewellery retailers desire to grow consumption of jewellery strictly for adornment purposes because of the positive business implications. However, growth in consumption of jewellery strictly for adornment purposes is dependent on income growth for Indians.
According to our forecasts, India is almost ten years away from nationwide mass consumption of jewellery for adornment purposes. Per Capita GDP of at least $3,000 appears to be the line of momentum when it comes to widespread consumption of luxury goods.
Exhibit 6-17: India grows toward inflection point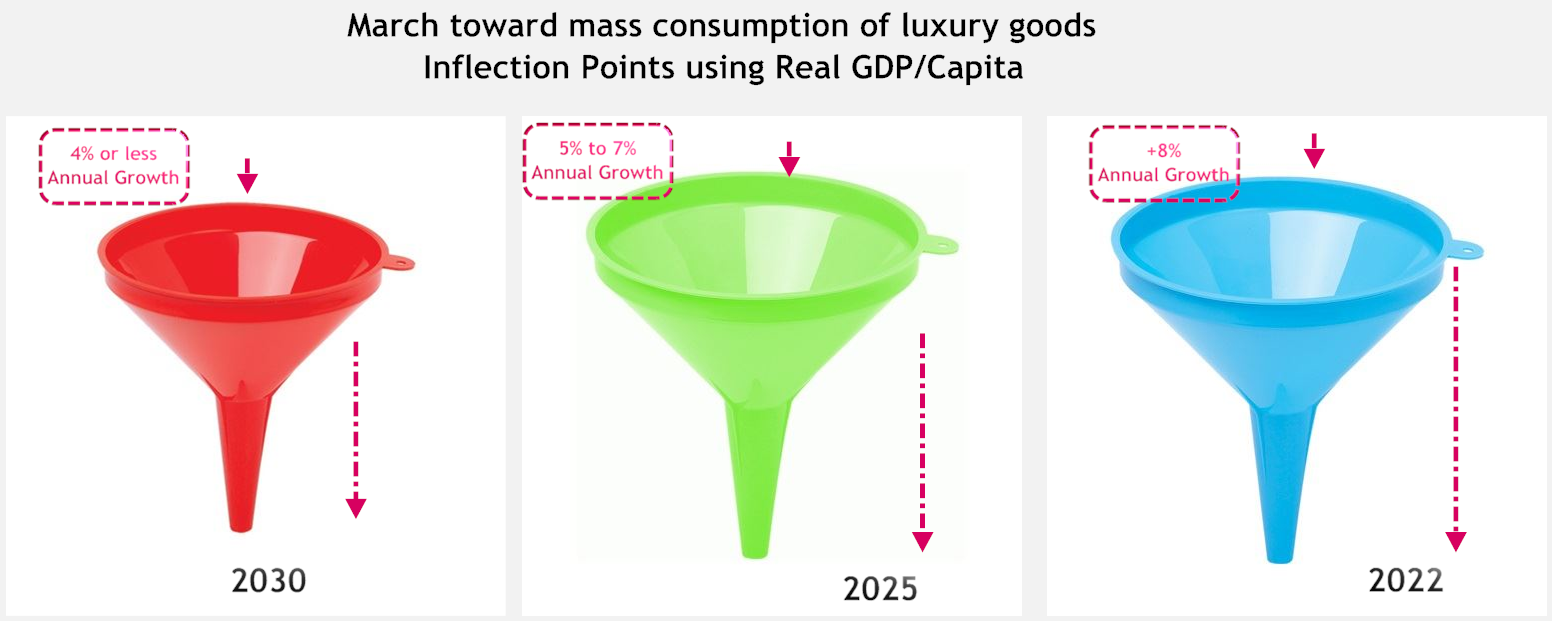 Source: Equity Communications
As India marches closer to this infection point, more Indians starts to afford luxury goods. Consequently, in the coming years we will witness stronger consumption of jewellery strictly for adornment purposes.
Women's financial empowerment crucial for consumption of jewellery for fashion purposes
Greater financial empowerment for women is necessary for growth in consumption of precious jewellery
for adornment purposes.
As things stand, parents and husbands are the financial source for a disproportionate share of jewellery owned by women in India. For this reason, Indian women are constrained in their ability to move away from traditional jewellery consumption patterns.
Having said that, a growing number of women in India are demonstrating financial independency and self-sufficiency. These financially empowered women have the freedom and confidence to go into stores to buy exquisite jewellery for themselves.
Exhibit 6-18: More women in organised sector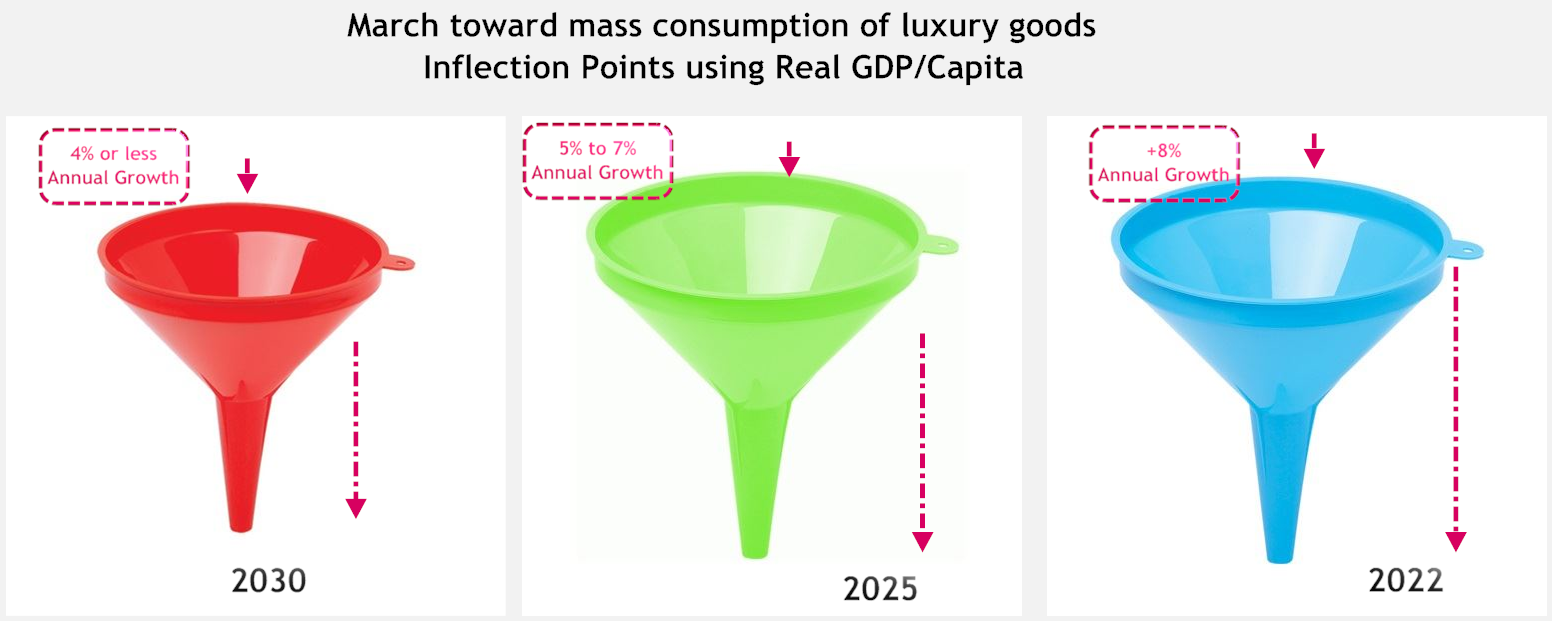 Source: Directorate General of Employment & Training, Ministry of Labour

Links to Pages on India Jewellery Market