Online (Internet) Jewellery Market India
Exhibit 9-1: Mobile internet penetration in India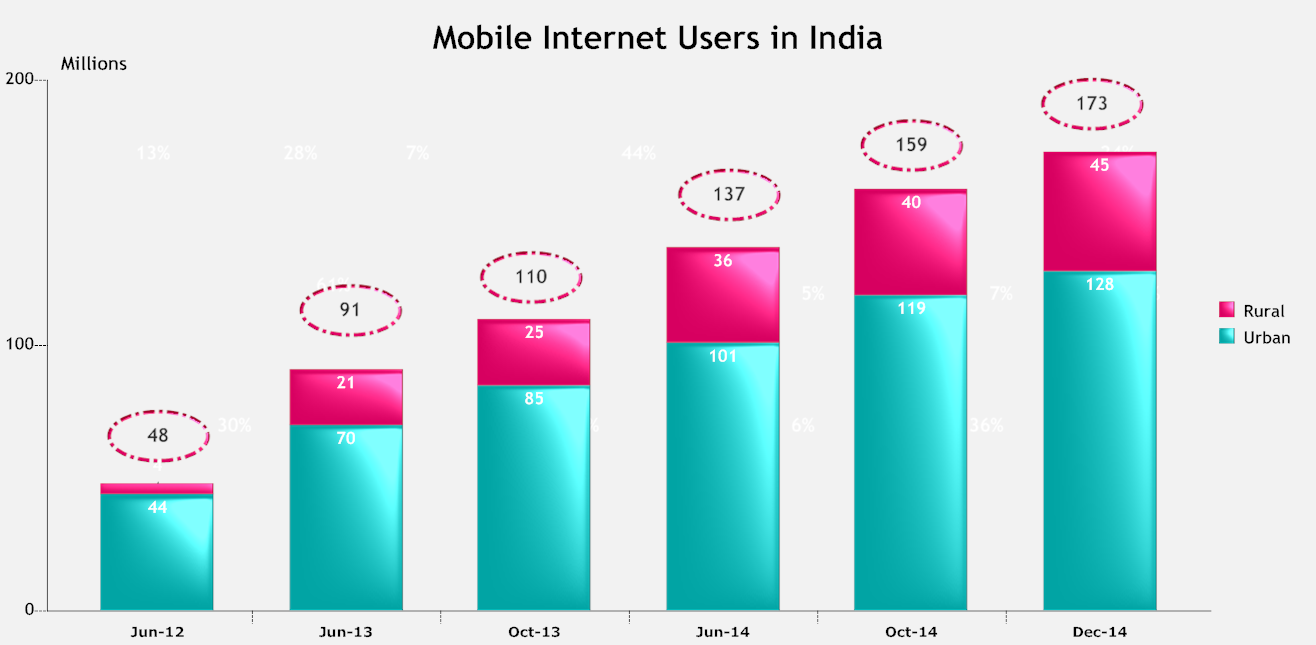 Source: IAMAI-IMRB I-cube estimates
Mobile internet and smartphone technology does two things:
1. If you combine smartphone technology and internet technology, the world is literally at the finger-tips. With internet technology, people get to learn about other cultures, the lifestyles of global peers and latest fashion trends.
Along the same line, numerous studies show that consumption habits of people can be greatly influenced by what they have experienced vicariously. Consequently, young Indians living in the frontier connected cities are rapidly becoming sophisticated and increasingly becoming less satisfied with plain gold jewellery. They are starting to care more about design, style and seasonal trends.
As more Indians adopt a worldly view, they will increasingly demand more trendy jewellery and contemporary designs. Clunky jewellery pieces will be replaced by lightweight material.
At the basic level, most Indians will still maintain their cultural allegiance to gold and gold jewellery for weddings and festivals. No other precious material comes close to being revered as a symbol of wealth and prosperity.
Nevertheless, younger Indians will increasingly show a willingness to experience other materials in jewellery - silver, platinum, steel and diamonds. Popular price points for fashion jewellery will range from US$10 to US$200.
2. It is not yet clear how exactly technology will transform jewellery shopping in India. But it will. First, India is modernizing its retail landscape. Indians traditionally go to the preferred and trusted neighbourhood jeweller for their jewellery requirements. However, this is gradually changing with the emergence of numerous regional retail chains and a sprinkling of countrywide retail chains.
Simultaneous to that, pervasive use of internet technology for product research and e-commerce means that
retailers also have to establish an online presence. This is mandatory for jewellery retailers with regional and
national expansion ambitions.
The standard expected is the same all over:
mobile-friendly sites 
sites using responsive design, adaptive according to the device that is used to access them 
real-time product information 
ffers and promotions
Online shopping for jewellery is still at the early stages and growth will likely be stunted by the fact that jewellery shoppers still want to touch and try out jewellery pieces before buying. For this reason, the majority of shoppers will likely visit jewellery websites to conduct pre-shopping research. If they find the information they need, they will then visit the physical stores to transact.
Finally, consumption of jewellery in India is traditionally diverse as a result of income disparities, the influence of ethnic background and regional preferences. Fundamentally, jewellery retailers can best use their online presence to build brand equity.

Links to Pages on India Jewellery Market