2014 precious jewellery sales
Exhibit 3-1: 2014 retail sales of precious jewellery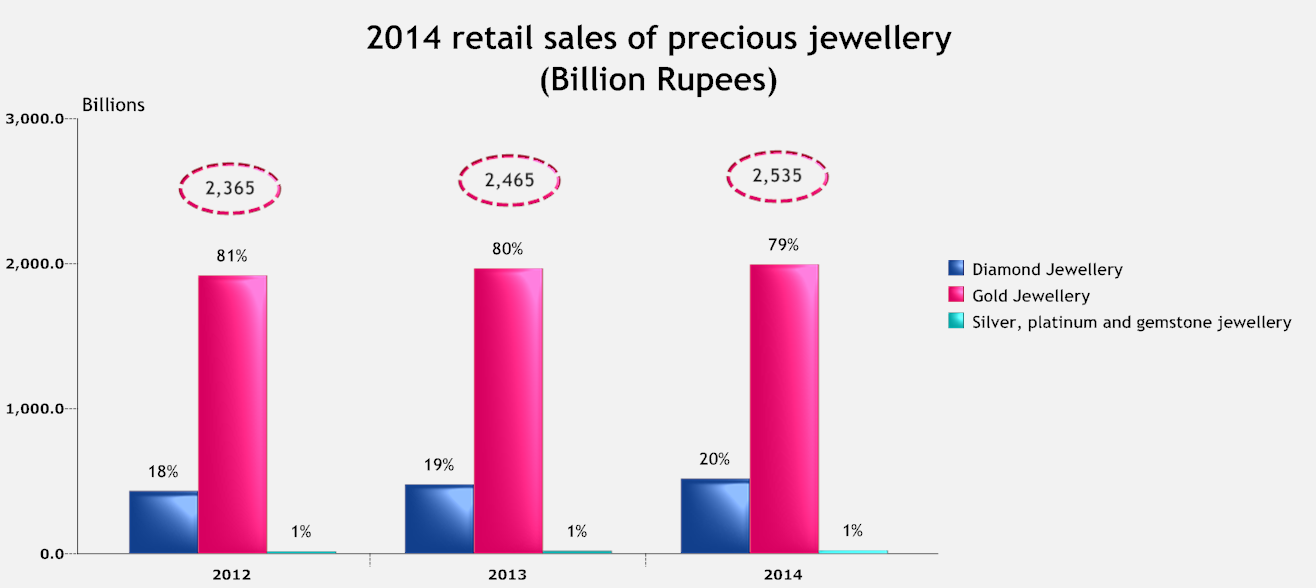 Source: Equity Communications
Retail sales of precious jewellery increased 2.8 percent to reach 2,535 billion rupees (US$41.57 billion) in 2014. Domestic changes in the way gold jewellery is traded helped make 2014 a record year for jewellery sales.
2014 gold jewellery sales
Exhibit 3-2: 2014 retail sales of gold jewellery
Source: Equity Communications
Retail sales of gold jewellery increased 1.4 percent to reach 1,995 billion rupees (US$32.71 billion) in 2014. Consumption of gold jewellery increased 7.9 percent to reach 660.8 tonnes in 2014 according to Equity Communications' preliminary assessment of retailer sales and this was offset by a 6.4 percent reduction in the rupee gold price.
The story of gold jewellery sales in 2014
80:20 gold rule introduced in third quarter of 2013 scrapped in fourth quarter of 2015 - results in lower domestic premiums on gold 
Rupee gold price down 6.4 percent in 2014 - results in cheaper gold for consumers 
Companies Act rewrite forces retailers to restructure gold buying schemes - results in a flood of redemptions before March 31, 2015
The gold rush of the second quarter of 2013 was always going to be a hard act to follow. Nevertheless, sales in 2014 were actually helped by the forced review of retailer gold buying schemes because of new Companies Act rules. This factor was the biggest contributor to record sales of jewellery in 2014.
Exhibit 3-3: Key one-off exogenous events fuel gold jewellery demand

Source: Equity Communications
Consequently, jewellery retailers are winding down standing instalment schemes with the view of reintroducing them in compliance with new laws. Such schemes let consumers spread out purchases of jewellery pieces they normally would not afford. Instalment schemes are estimated to make up to 25 percent of annual gold jewellery sales.
Forced early redemption of instalment schemes meant that gold jewellery sales in the third quarter of 2014 were almost similar to sales in the second quarter of 2014. A weakening of the rupee gold price during August and September also supported redemption efforts.
2014 diamond jewellery sales
Exhibit 3-4: 2014 retail sales of diamond jewellery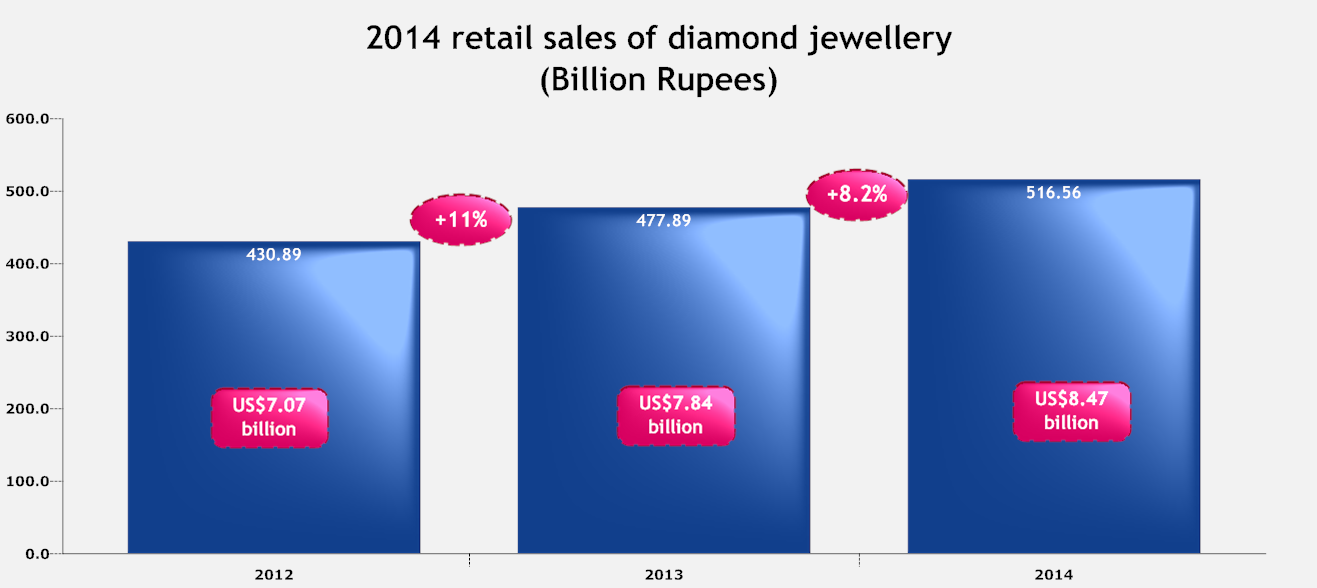 Source: Equity Communications
Retail sales of diamond jewellery increased 8.2 percent to reach 517 billion rupees (US$8.49 billion) in 2014. In general, demand for diamond jewellery is stronger and more competitive at steady gold prices because consumers will be less concerned about potentially losing out on positive gold price movements. Consumer demand for diamonds is more discretionary.
2014 platinum, silver and other gemstone jewellery sales
Exhibit 3-5: 2014 retail sales of platinum, silver and other gemstone jewellery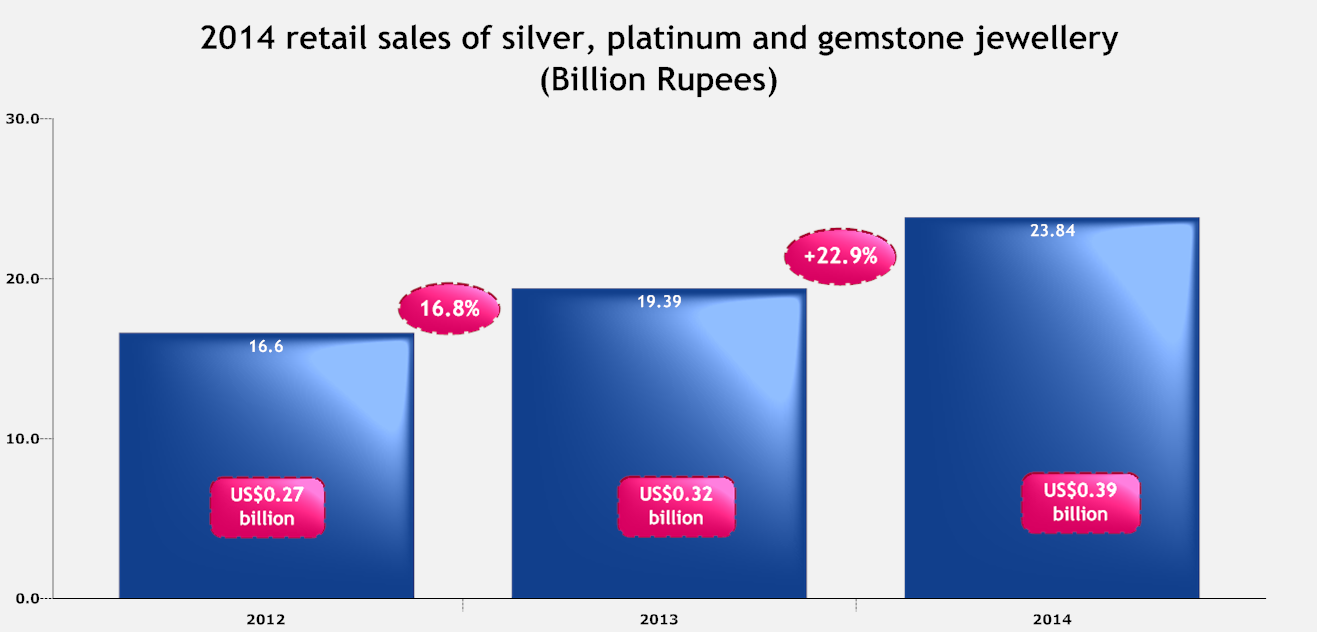 Source: Equity Communications
Platinum Guild International (PGI) is working in partnership with domestic retailers to grow demand for platinum jewellery. The organization is spending US$78 on marketing for every ounce of platinum jewellery sold in India.
Sixty percent of platinum demand is for bridal jewellery. Retail sales of platinum jewellery increased 16.8 percent in 2014 to reach 17.84 billion rupees. Volume take-up increased 23 percent to reach 172,000 ounces in 2014, boosted by successful marketing of men?s platinum jewellery.

Links to Pages on India Jewellery Market