Chapter 2: Statistics on Diamond Supply and Production
Introduction
Global supply of diamonds is mostly a result of the rise and fall of diamond mining operations in response to discovery and exhaustion of diamond deposits, political conflict in key producer and consumer regions, economic crises and changing consumer fashion tastes.
No fresh discoveries of rich diamond deposits have been made in more than a decade and this constraints long-term supply of diamonds.
Here is a summary of global diamond supply for the last twenty years since 1995: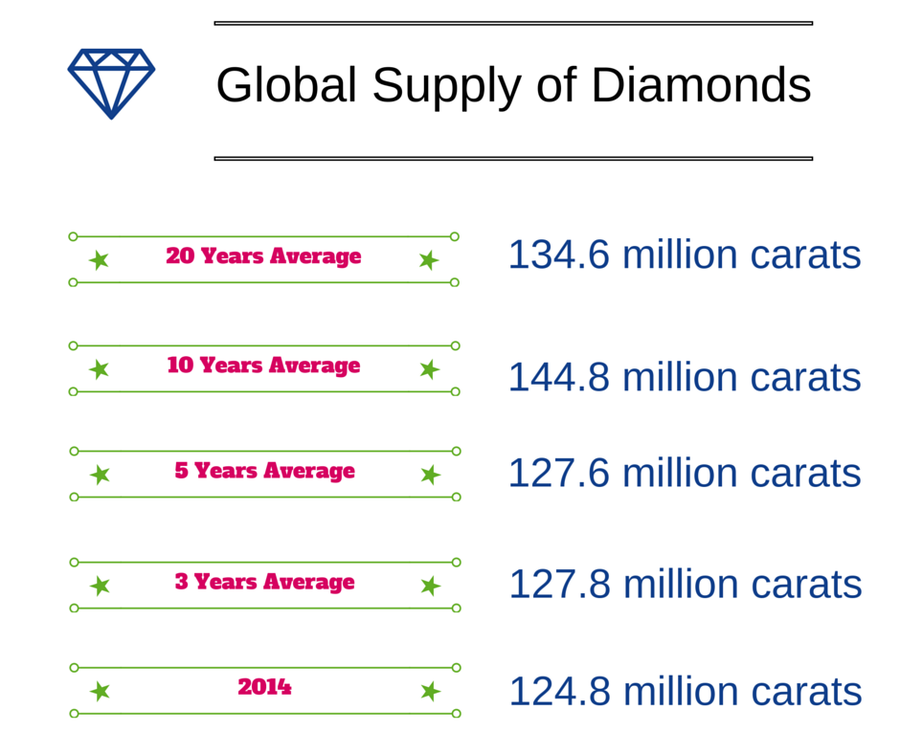 Global Supply of Diamonds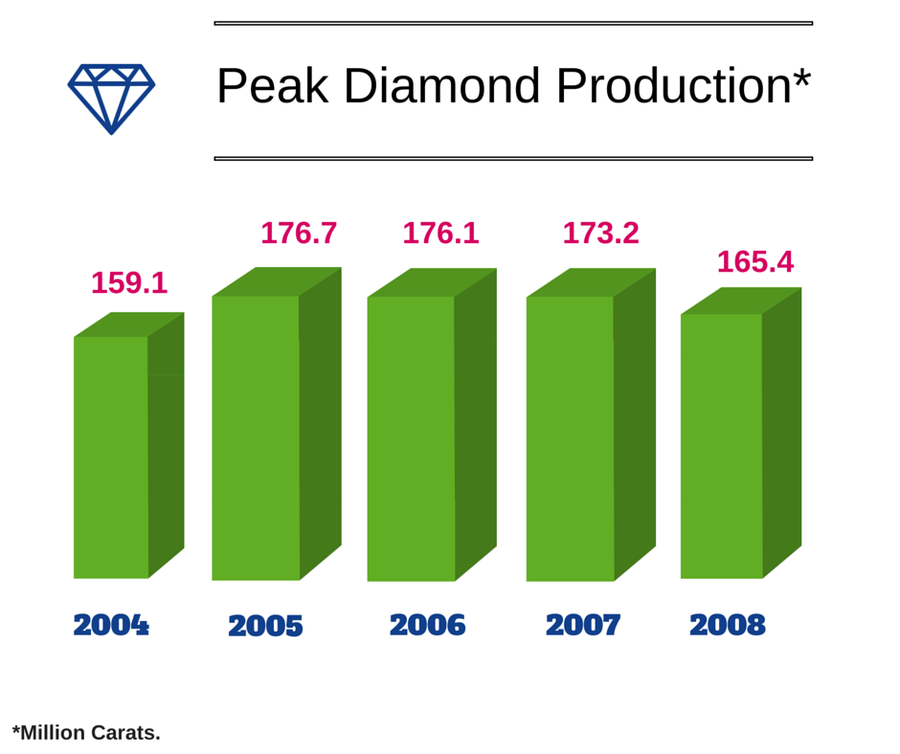 From 2004 to 2008, strong market demand for rough diamonds was spurred on by the financial excesses in the global economy that encouraged easy credit. As a result, huge volumes of diamonds were supplied annually in the years leading up to onset of the Global Financial Crisis.
Post-Crisis supply of diamonds has remained around 127 million carats annually. Diamond producers have maintained steady supply and increased rough diamond prices. Furthermore, consumer demand for diamonds has remained subdued post-Crisis.
World's Leading Diamond Producers
Not more than 25 countries in the whole world produce diamonds. In fact, just 7 countries consistently account for the great majority of annual supply of diamonds - 93 percent in 2014.
Annual supply of diamonds by volume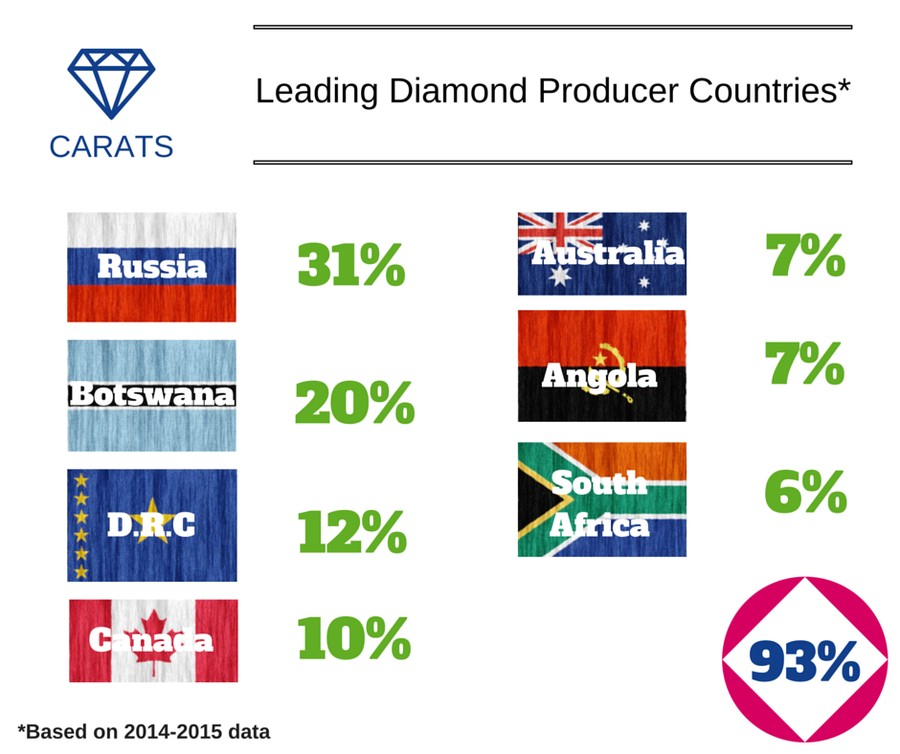 Furthermore, nearly all of the world's annual output of diamonds is coming from about 59 mines, alluvial diamond fields and marine operations in the top nine producer countries - Angola, Australia, Botswana, Canada, DRC, Namibia, Russia, South Africa and Zimbabwe. These 59 mines and diamond fields currently produce 99 percent of annual global production of diamonds.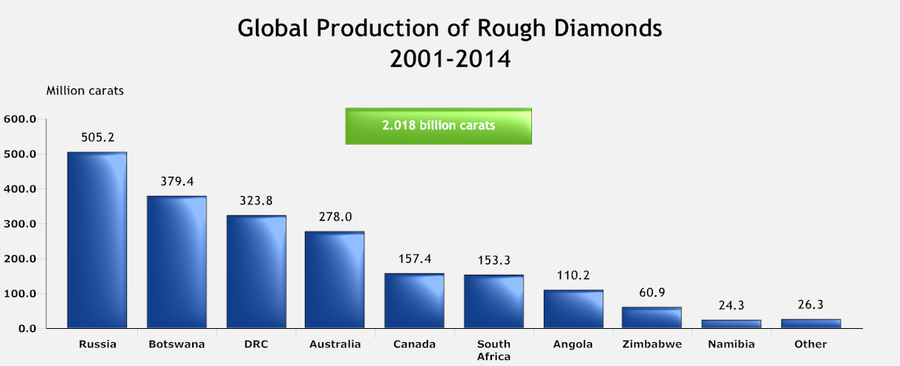 Russia has supplied the most diamonds to world market this side of the millennium.
Production Footprints of Diamond Producers
Production footprint refers to a profile of the type of diamonds present in a diamond deposit.
The first thing to understand in global diamond mining is that different geographical regions of the world produce different types of diamonds designated for different markets.
Annual supply of diamonds by value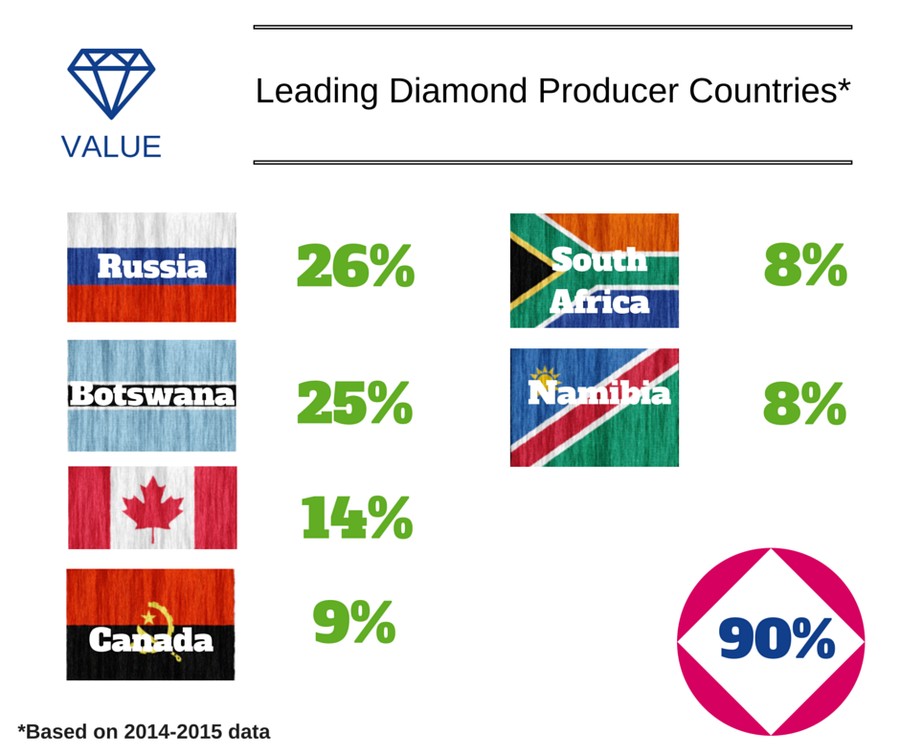 For example, DRC turns out 16 million carats of diamonds annually but only 5 percent of the production footprint is pure gem quality diamonds - less than 1 million carats. Thus, a loss of all diamond supply from DRC would substantially reduce annual global production of diamonds but with limited impact on pure gem jewelry markets.
Conversely, a loss of supply from Botswana would be very disruptive to global diamond jewelry markets.

The Jwaneng mine in Botswana turns out 10 million carats of diamonds annually. Of these, at least 80 percent of the production footprint is diamonds than can be used in good quality diamond jewelry - over 8 million carats.
Top Diamond Producers Production Footprint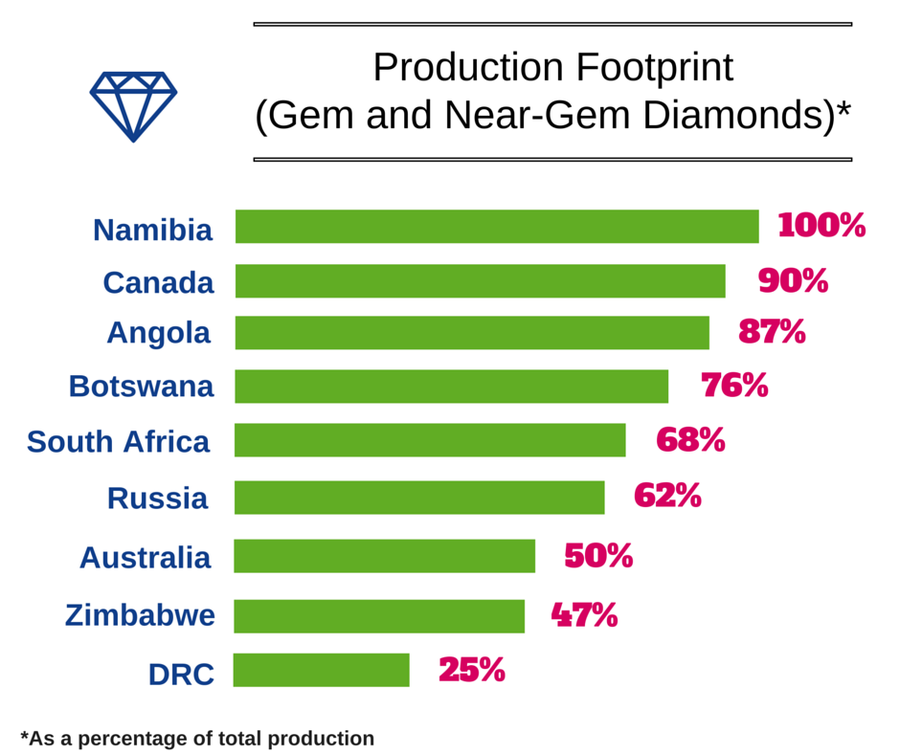 Note: After mined ore is processed, the diamonds produced are sorted according to the following general categories: gem-quality, near-gem quality, and industrial. Nowadays gem quality and near-gem diamonds refers to any diamonds suitable for use in jewelry
Producer countries grouped by average quality of diamonds produced
Group 1 countries produce the fewest pure gem quality diamonds. They mainly produce industrial diamonds and near-gem quality diamonds destined for fashion jewellery markets.
Group 2 countries produce the largest number of commercial grade diamonds mainly destined for wedding markets all over the world but mostly to USA, Japan, India and Greater China.
Group 3 countries produce a relatively high number of premium quality diamonds - top quality white diamonds and rare large size diamonds - mainly destined for luxury consumer markets.
Major Diamond Producers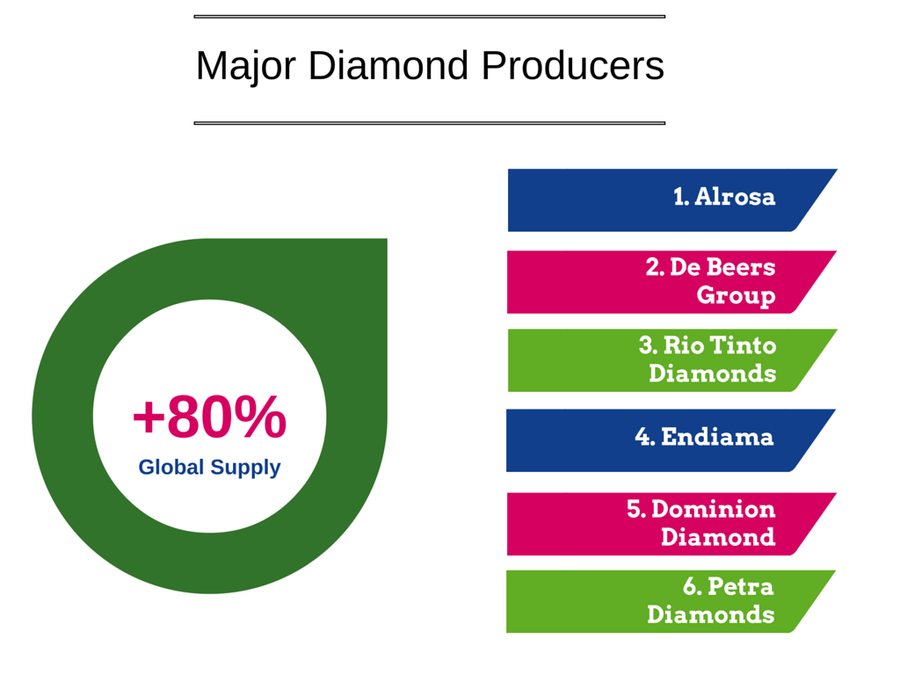 A handful of companies dominate diamond production, De Beers being the most famous. The others are Alrosa, Rio Tinto Diamonds, Dominion Diamond, Petra Diamonds and Endiama. Together, these six companies control more than 80 percent of annual supply of diamonds.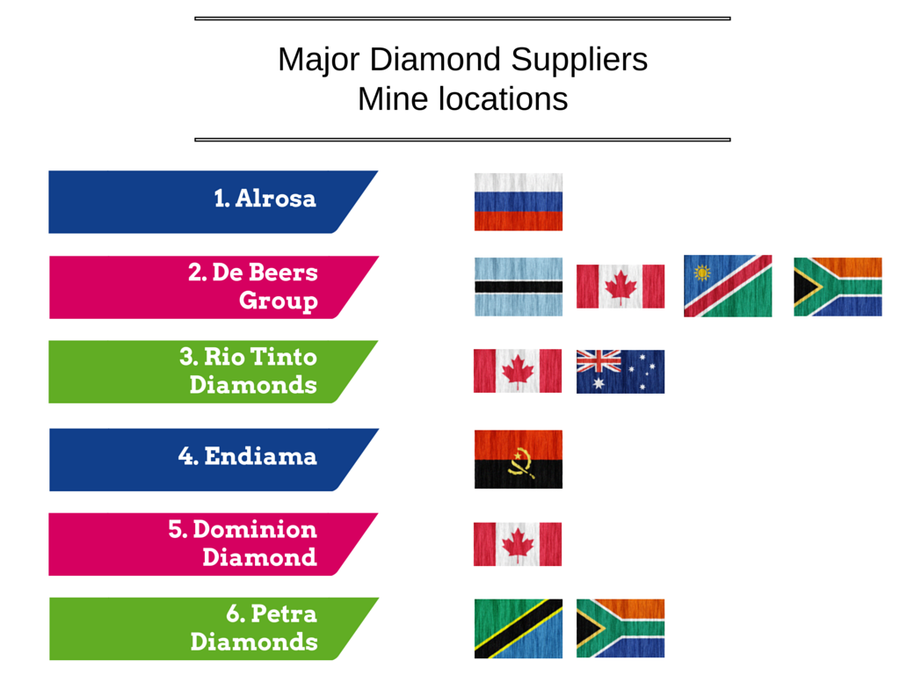 In reality, Alrosa and De Beers and Rio Tinto are the three most influential companies in the global diamond industry. Policies and strategies of these three industry giants greatly influence everything else that happens in the global diamond industry.
World's richest diamond mine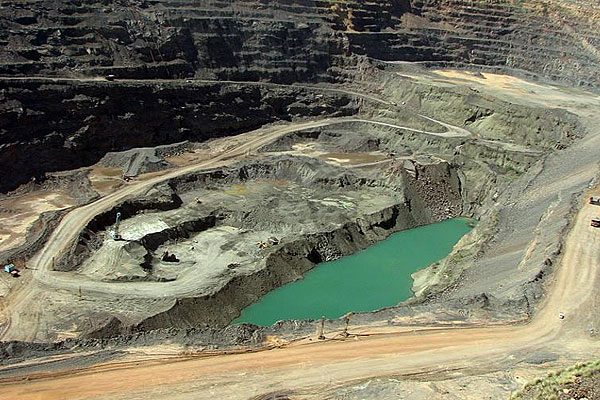 Jwaneng Mine is the richest diamond mine in the world. It usually produces around 11 million carats of diamonds per year usually valued at over US$ 2.3 billion.
World's largest open pit diamond mine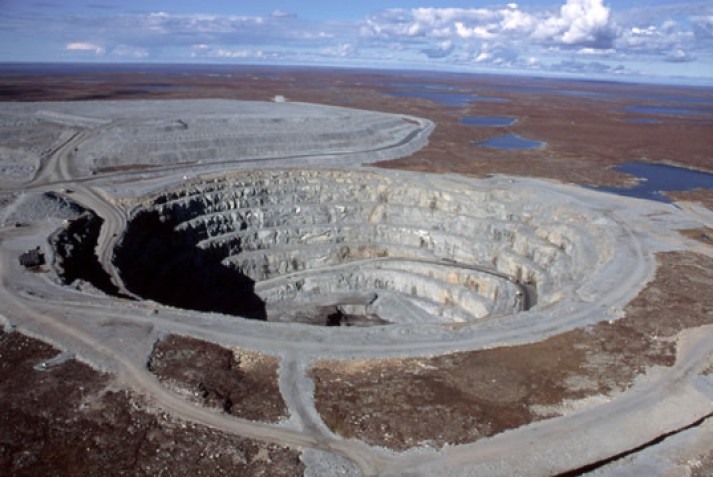 Orapa is the world's largest open-pit diamond mine. It usually produces around 12 million carats of diamonds per year usually valued at about US$1.8 billion.
Both Jwaneng and Orapa are located in the country of Botswana and are owned by Debswana, which is a 50/50 joint venture between De Beers and the Republic of Botswana. De Beers is 85 percent owned by Anglo American and 15 percent by the Government of Botswana.
World's largest underground diamond mine
In 1983, the Argyle mine was established as the first major diamond mining operation in Australia.
Almost immediately, it became the world's largest source of diamonds by volume of carats produced. The discovery, development, and operation of this mine challenged conventional beliefs about diamond geology, mineral processing, and the marketing of gem diamonds. In its peak year, 1994, the mine produced over 42.8 million carats of rough diamonds, which represented 40 percent of the world's production.
A large proportion of Argyle's output consists of inexpensive small brown-to-yellow as well as some near-colorless and colorless rough diamonds. The Argyle mine is also the dominant producer of rare pink diamonds.
In a way, production from the Argyle mine built the diamond cutting industry in India. Argyle has produced more than 800 million carats since 1983, most of which can only be viably cut and polished in India, creating jobs for more than half a million Indians at peak.
Construction of the Argyle underground mine was completed in the first half of 2013.

Underground operations, that is 40km of underground tunnels, will generate around 9 million tonnes of ore per annum, and on average approximately 20 million carats per year over the life of the block cave - to at least 2020.
The Argyle underground mine is one of the most technologically advanced mines in the world, built at a cost of US$2.2 billion. It was constructed using a block caving technique which is especially effective for a large low-grade ore body like Argyle because it is a high-volume mining method. This production rate, similar to the former open-pit operation, is necessary to keep unit costs down and maintain high levels of mining efficiency.
World Diamond Production 1994-2014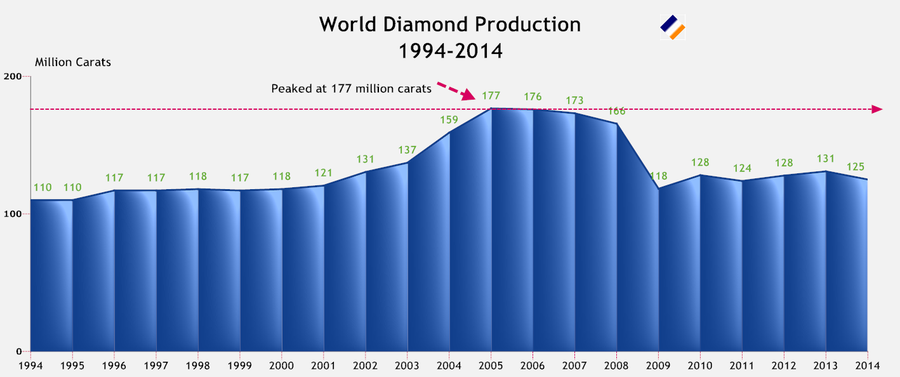 Leading Diamond Producers 2009-2014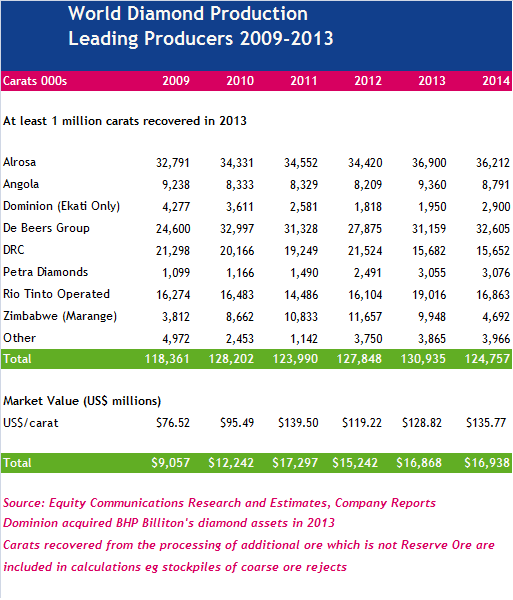 Rough Diamond Sales 2009-2014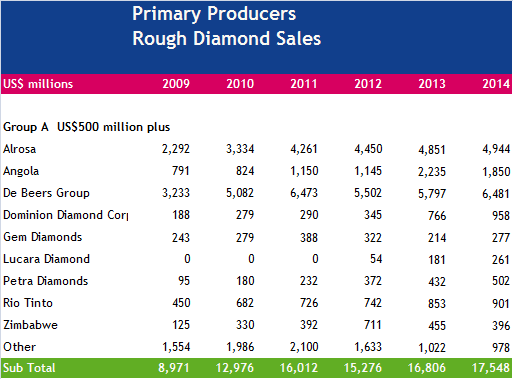 2014 Rough Diamond Production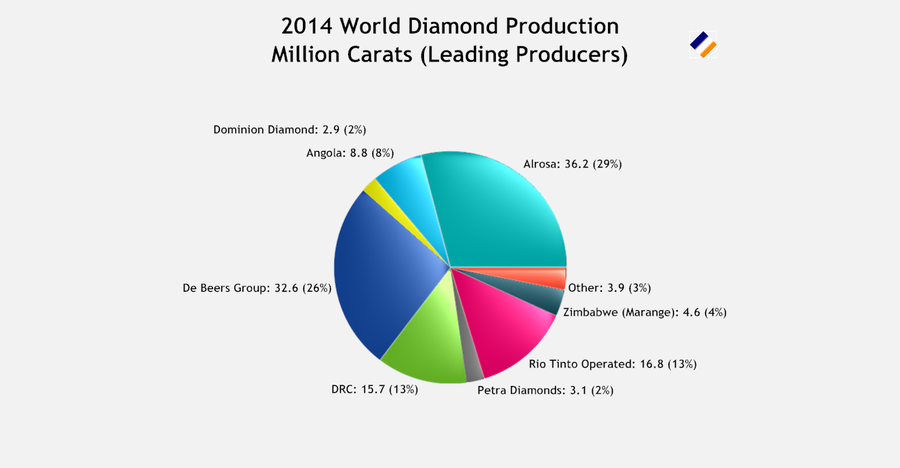 2014 Rough Diamond Sales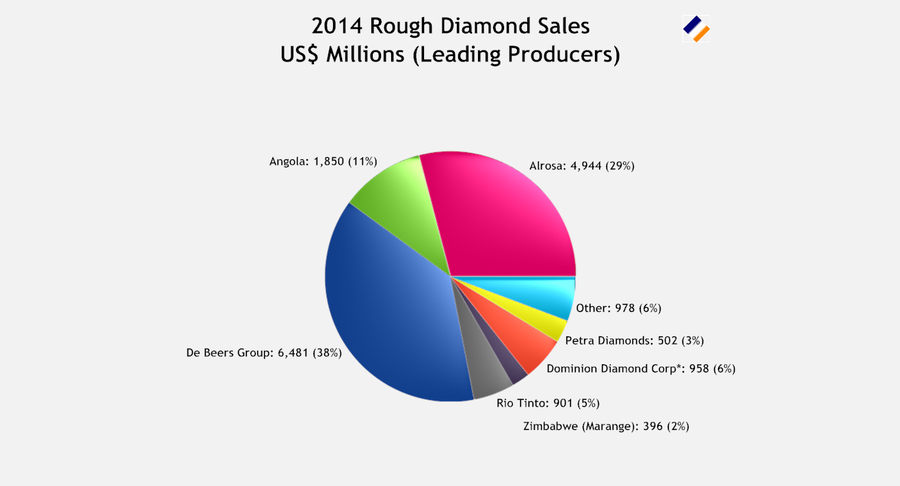 Diamond Supply and Production: The Definitive Guide
Diamond, composed of carbon, is the hardest natural substance in the world. It is mined for use in precious jewelry and industrial applications.
You will find all the important things to know about diamonds and their production here. As well as information on the major source countries like Canada and the major diamond mining companies like De Beers.