Core Consumers of Fine Jewelry Per State
Predicting the attractiveness of state jewelry markets
Methodology
We analyze data from the United States Census Bureau's American Community Survey to test for conditions that are known to be positive for consumption of jewelry. We have done this at both the State and Metropolitan level but our analysis will be restricted to the State level.
About ACS 5-Year Estimates
The American Community Survey (ACS) is an annual installment of the Census Bureau which provides new demographic and socio-economic data for every community in the United States.
In particular, for our analysis we have used data from the 2008-2012 American Community Survey (ACS) 5-Year Estimates, which provide information for all counties, municipalities, and other geographic areas down to the census block-group level. The ACS 5-Year Estimates use a series of monthly samples to produce annually updated data for the same geographic areas formerly surveyed via the decennial census long-form sample. ACS 5-Year estimates are derived from 60 months of data collection to provide a large enough sample size to ensure the most reliable estimates for smaller geographic areas.
We believe these 5-year estimates enable the best opportunity to get a rough idea of the current attractiveness of jewelry markets at the state level. As is the case with all surveys, statistics from sample surveys are subject to sampling and non-sampling error. Margins of error have been omitted in this research report for clarity, but are available for all ACS estimates on factfinder2.census.gov.
Qualifying prospects per state
Income is an obvious factor in who buys jewelry and how much they can afford. As a group, affluent and wealthy consumers spend proportionately more than those who make less money.
But middle and lower income consumers also buy jewelry. Consumers in these lower income groups are much more numerous and thus form important market segments. However, they typically target lower price points for consumption.
Our cut-off for qualified jewelry prospects is the $50,000 to $75,000 income range for families. But this does not mean poorer families do not buy fine jewelry. It is just that their combined spending is less than ten percent of the market by value.
We have deliberately chosen family income over household income to reduce the distortive effects of single-person, high-income households. Furthermore, a substantial share of jewelry is bought for marriage-formation events and for in-marriage celebrations. Five-year families' income data also captures qualifying prospects from single-person households who transition into families.


Exhibit 9-1: Percent of qualified jewelry prospects per stat
 
Source: Equity Communications, Analysis of U.S Census Bureau 2008-2012 American Community Survey (ACS) 5-Year Estimates
Exhibit 9-2: Grading the quality of state-wide jewelry markets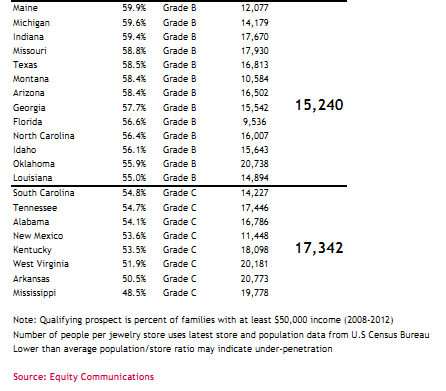 Exhibit 9-3: Number of core consumers of fine jewelry in states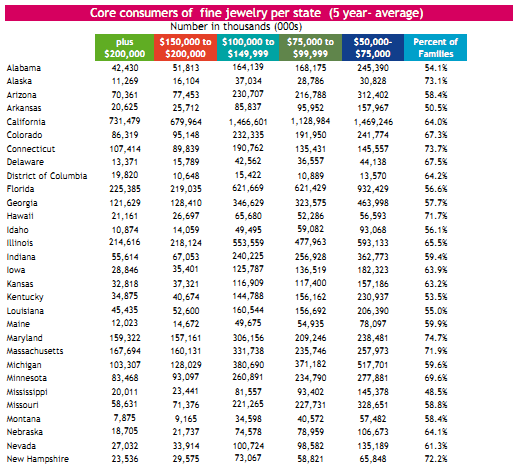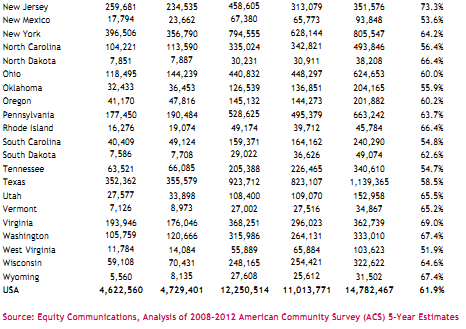 Some things just add up
Analysis of national and income thresholds reveals which markets to target plus at what price points for the various product categories.
In addition to the buying power factor, academic research studies have revealed certain lifestyle situations and conditions which can help us predict whether someone is potential a strong jewelry consumer or likely a weak one.
To be sure, it is hard to determine =cause' and =effect' but certain things just work together. For example, college graduates take longer to get married than their less educated peers. However, in the longer-term, they are eventually more likely to get married at least once in a lifetime. Moreover, college graduates enter into more sustainable marriages and spend substantially more on jewelry in a lifetime.
That being said, college graduates in some states proceed quicker into marriage than college graduates from other states. The difference is reflected in the value of wedding jewelry sales.
College graduates who get married early in the career life-cycle spend less on wedding jewelry than college
graduates who delay marriage by at least five years.
Exhibit 9-4: States with the highest percent of persons 25 years and older with a Bachelor's Degree or higher (2008-2012)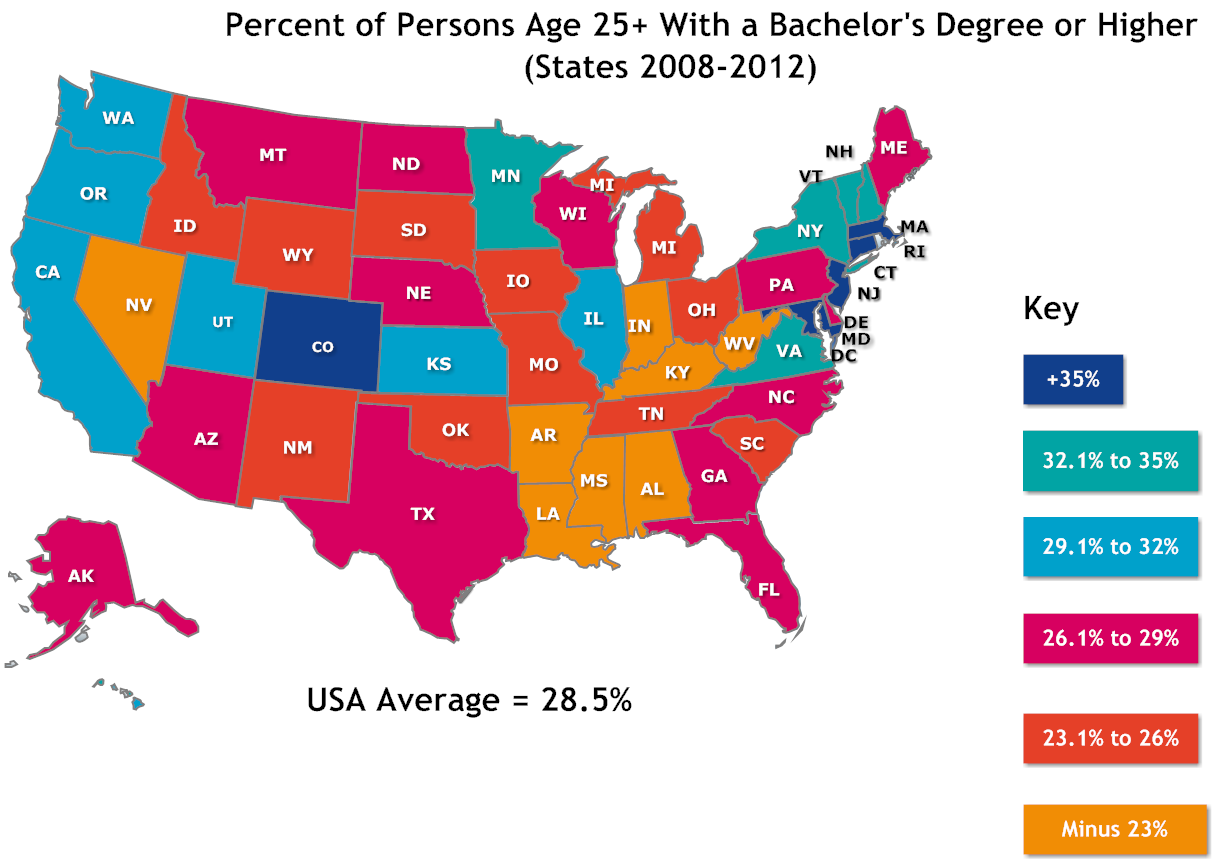 Exhibit 9-5: The Rule of Thumb, using state birth-rates as proxy for quality of marriage jewelry consumption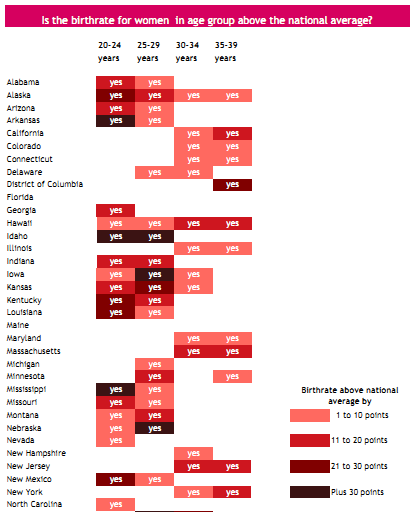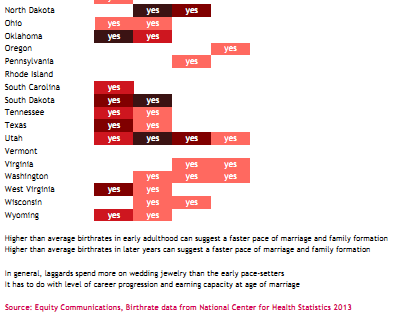 Exhibit 9-6: Distribution of marriages per year by State