The deteriorating economic position of young people
Impact: Overall pace of marriage formations is further delayed

In this section we look at the economic well-being of those who were aged 18 to 24 between 2007 and 2013.
These were the ages most affected by the Great Recession. More importantly, these are the adults who make up the core group of people getting married for the first time right now – ages 24 to 30.
First, it is a good idea to review the list of things that emerging adults aspire to achieve before they get
married or settle down:
Ninety-one percent of young adults believe they must be completely financially independent to be ready for marriage 
Over 90 percent of them believe they should finish their education before taking the big step 
Fifty-one percent also believe that their career should be underway first 
In fact, almost half say that it is "very important" to work full-time for a year or two prior to getting married 
33 percent report they ought to be able to pay for their own wedding 
Just short of a quarter even believe they should have purchased a home before tying the knot
Sadly, the ideal is nowhere near current reality. The recent recession has shattered the goals and aspirations of many young adults in the USA. The sluggish economy has had an impact on a wide array of coming-of-age decisions about career, marriage, parenthood and schooling.
Exhibit 2-12:The Great Recession disrupts career plans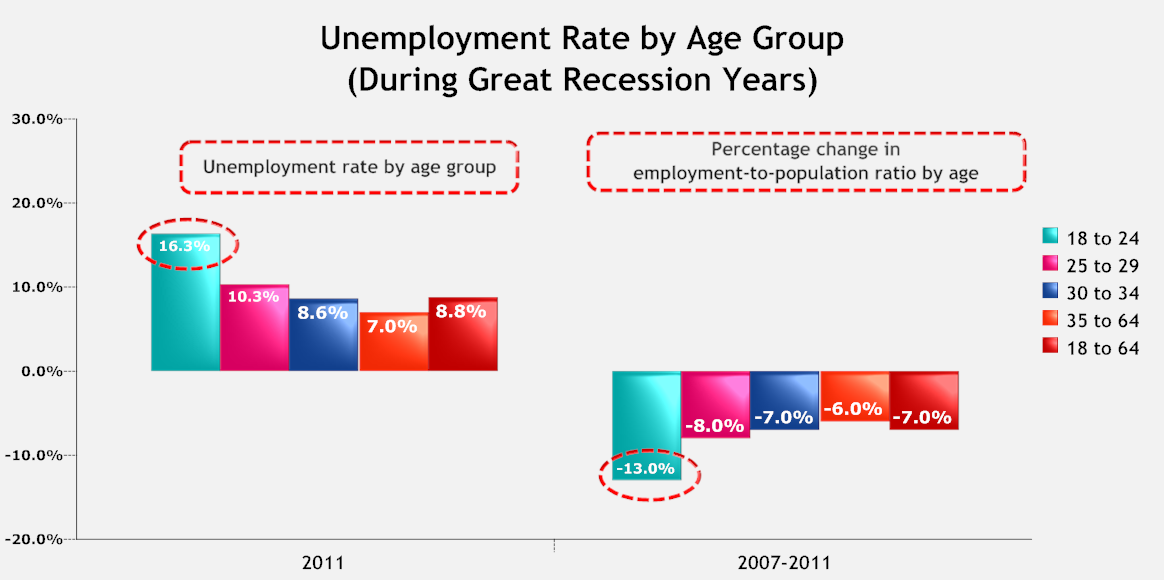 Source: U.S Bureau of Labor Services, Equity Communications
The unemployment rate in 2011 was 16.3 percent for 18- to 24-year- olds, compared with 8.8 percent for all
adults ages 18 to 64. During the recession years, the gap in the unemployment rate between 18- to 24-year-olds and all working-age adults has been the widest in recorded history.
The recent recession harmed not only the employment prospects of young workers, but also their paycheck.
Young adults, who are typically at the start of their career and earnings ladder, also experienced the greatest
drop in weekly earnings because of the recession.
Exhibit 2-13: Incomes for young adults retreat because of recession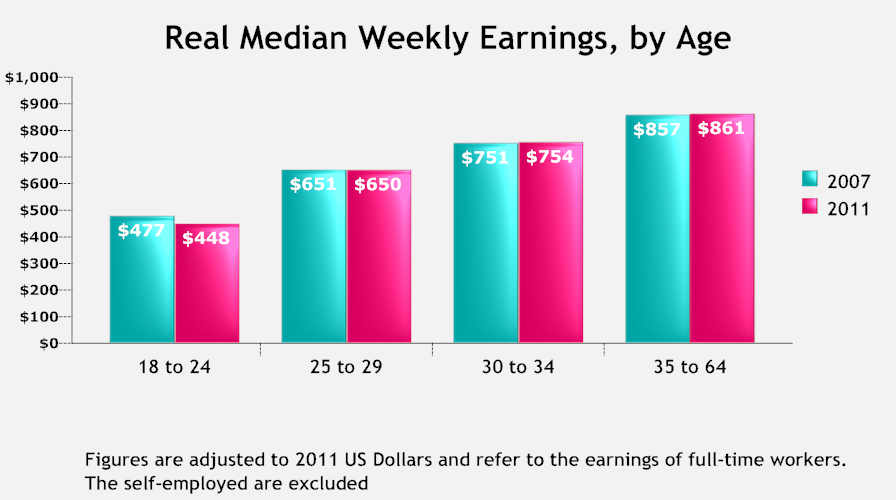 Source: U.S Bureau of Labor Services, Equity Communications
In 2011, the median weekly earnings of 18 to 24 year-olds who worked full time were $448. That figure was 6.1 percent less than their median earnings of $477 in 2007. Workers ages 25 to 29 and ages 30 to 34 experienced no change in their wages. For 25 to 29 year-olds who worked full time, median weekly earnings were $651 in 2007 and $650 in 2011. The earnings of 30 to 34 year-olds were $751 in 2007 and $750 in 2011.
Exhibit 2-14: The worst job market for young adults since just after the world war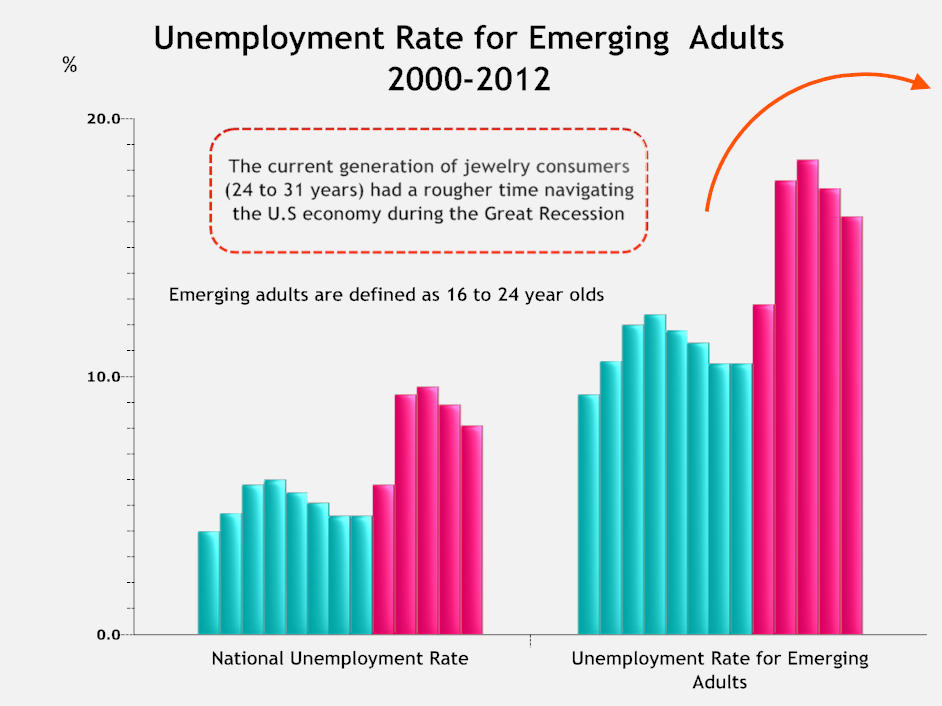 Source: U.S Bureau of Labor, Equity Communications
In the past decade—and especially since 2007—young adults (ages 18 to 24) have faced a difficult job market. The unemployment rate for young adults has almost been double the overall rate. In the past couple of years, a smaller share of the young adult population has been employed than at any time since 1948, the first year these data became available, and a growing share has left the labor market. Moreover, the recession had a more severe impact on the earnings of young adults than on those of any other age
group.
Result?
| | |
| --- | --- |
| | "Young adults at the life stage for marriage (25-34) are taking longer to finish their education and stabilize their work lives" |

Exhibit 2-15: Reasons for not being married

Source: Pew Research Center survey, May 22-25 and May 29-June 1, 2014 (N=2,003)
Note: Based on those who have never been married and want to get married or are not sure (n=369).
Volunteered responses of "Other" and "Don't know/Refused" not shown.
"Record Share of Americans Have Never Married: As Values, Economics and Gender Patterns Change." Wendy Wang and Kim Parker, 2014.