Emerging trend of fast rising student debt levels is a possible red flag for marriage formation
Impact: Overall pace of marriage formations is delayed

Exhibit 2-16: Acceleration of student debt accumulation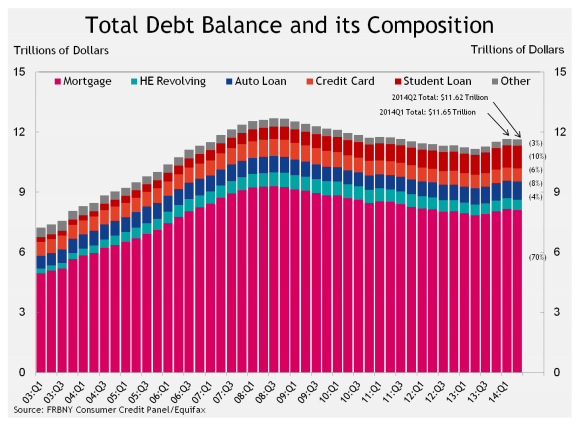 Source: Federal Reserve Bank of New York
Student loan debt exceeded $1 trillion for the first time in 2012, surpassing the total amount of consumer credit card debt in the process. In fact, student debt is the only kind of household debt that continued to rise through the Great Recession. It is now the second largest balance after mortgage debt.

To be sure, college costs continue to rise faster than inflation, necessitating increased financial assistance. In fact, more than 60 percent of college students are accessing student debt and usually at higher levels. (As an aside, the returns on college education have also been rising faster than inflation)
However, as fallout of the Great Recession, the returns from college education are so far less than optimal for
more than 40 percent of recent college graduates.
Exhibit 2-17: Recent college graduates take up jobs that normally do not require a college degree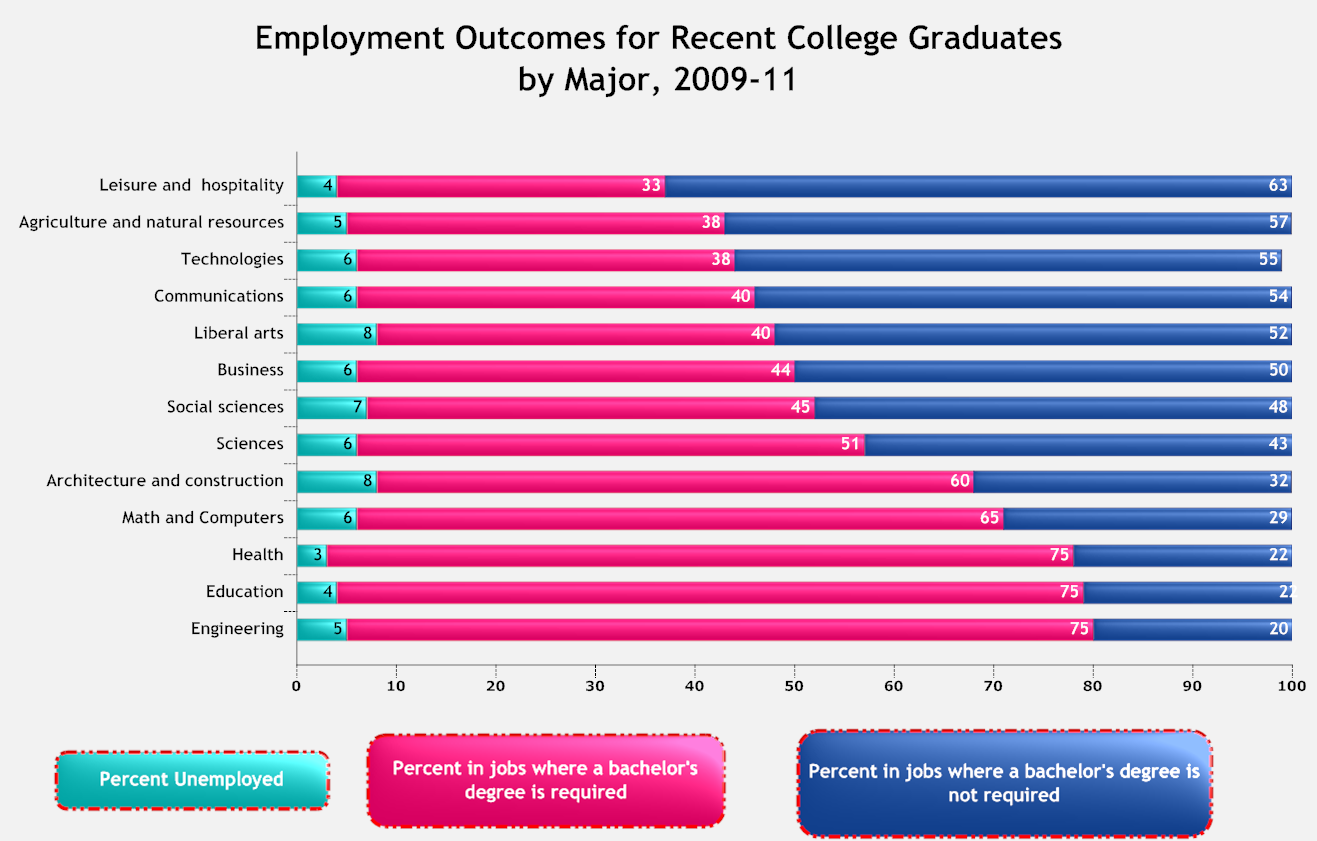 Source: U.S. Census Bureau, American Community Survey; U.S. Bureau of Labor, O*NET.
Recent college graduates are those aged 22 to 27 with a bachelor's degree or higher. All figures exclude thosecurrently enrolled in school. Because of rounding, figures in each bar may not sum to 100.
Please note: Talent, motivations, and abilities differ from individual to individual. For instance, not everyonewho wants to be an engineer can become an engineer. The ambition is not feasible for people who do not have the ability to complete the required coursework.
The Great Recession has left many recent college graduates struggling to find jobs that utilize their education. However, a look at the data on the employment outcomes for recent graduates over the past two decades suggests that such difficulties are not a new phenomenon: individuals just beginning their careers often need time to transition into the labor market. Still, the percentage who are unemployed or "underemployed"—working in a job that typically does not require a bachelor's degree—has risen, particularly since the 2001 recession. Moreover, the quality of the jobs held by the underemployed has declined, with today's recent graduates increasingly accepting low-wage jobs or working part-time. - From Federal Reserve Bank of New York: Current Issues in Economics and Finance Volume 20, Number 1, 2014)
Essentially, what this means is that some students who accumulated debt to fund their education are belatedly discovering that, because of shortfalls in anticipated earning capacity, it will take longer than previous planned to pay back college debt.

Student loan repayment default is the immediate consequence of such a situation. After falling for the majority of the 1990s, the federal student loan default rate began to rise halfway through the 2000s and it has since passed 10 percent.
Exhibit 2-18: Student-loan default rates rise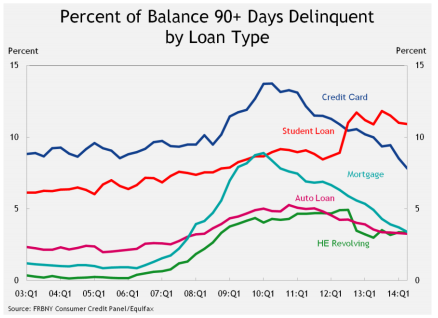 Perhaps the more troubling concern is that young adults with lingering student debt are slower to progress through lifecycle events. A growing number of research studies show that college graduates with persistent student debt tend to delay lifecycle events such as buying a car or house, getting married and even having children - a clear indication of economic stress.
One study, using data from the Survey of Consumer Finances, finds that an additional $10,000 in student loans reduces the probability of marriage by 7.4 percent for men. An additional $10,000 in student loans reduces this probability by 9.3 percent for women.
Exhibit 2-19: More student debt is associated with being credit constrained
Source: Federal Reserve Bank of New York
More student debt is associated with higher probability of being credit constrained, more difficulty staying current on payments on different types of debt, and greater likelihood of declaring bankruptcy.
Student debt repayment has a direct impact on disposable income, which can place financial strain on households when combined with liquidity constraints that prevent graduates from borrowing against future income. A recent trend in the FRBNY Consumer Credit Panel of 25 and 30 year old shows student borrowers having lower credit scores on average than the scores of similarly aged non-borrowers.
Summary:

All the above trends combine to delay the pace of marriage for the millennial generation.
As a result, the median age of first time brides in the not-too-distant future is going to be much closer to thirty. However, experiences of European countries which have long gone that route are not very encouraging.
Still, it is not all gloom for the jewelry industry.
Young adults who push back marriage to pursue career goals with successful outcomes actually do get married in their late twenties and early thirties. The good news is that by this time they would have accumulated enough income that enables them to spend more on fine jewelry for engagements and weddings.
Jewelry stores may be selling fewer fine jewelry pieces but they are doing it at higher prices.