| | |
| --- | --- |
| | "Young adults are still becoming mothers and fathers. They are just doing it without a ring" |

More women going the "single mother" route…and usually by accident
Impact: Women who have children out of wedlock are less likely than other women to eventually marry
Exhibit 2-8: delaying marriage while still being sexually active increases the probability of having children outside marriage

The difference between the median age of first intercourse (17) and the age at first marriage (26) for women is now nine years.
Americans become sexually active in their teens and get married starting in their mid twenties.
As marriage gets delayed to later ages, the odds of having a child outside of marriage increase. Young adults may have delayed marriage but they are still having sex. Since it has become more socially acceptable to have children out of wedlock, fewer young adults are getting married when a pregnancy occurs. The institution of marriage, and even the presence of two parents, are seen as ideal but not necessary for raising children.
Exhibit 2-9: Liberal sexual habits of modern-day Americans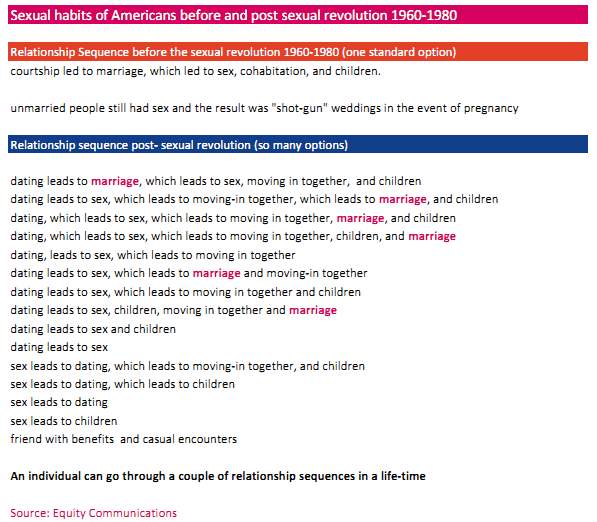 Today, the typical relationship sequence is radically different than it was for much of American history. In the past, the relationship sequence that most aimed to follow went like this: courtship led to marriage, which led to sex, cohabitation, and children. Today, marriage comes near the end of the line.
About

ninety percent

of couples have sex before marriage, according to one study 
Four in ten babies are born to unmarried parents (latest national data 
Most couples live together before getting married
Couples build a lot of history, both together and with prior partners, before deciding to spend their lives together.
Exhibit 2-10: The rising number of babies being born out of wedlock

Source: U.S. Department of Health and Human Services, National Center for Health Statistics
Exhibit 2-11: Percent of births that are non-marital births, by age group

Source: U.S. Department of Health and Human Services, National Center for Health Statistics
Characteristics of Unmarried Mothers


black women are more likely to have children outside of marriage than other racial or ethnic groups; 
women in their early twenties have the highest percentage of births outside of marriage; 
single motherhood is more common among women with less education than among well-educated women; 
a significant number of unwed mothers are in cohabiting relationships; and 
women who have a non-marital birth are less likely than other women to eventually marry
| | |
| --- | --- |
| | "Women with better educational opportunities delay childbearing, which increases their marriage prospects, and makes it more likely they will be married and financially better off when they have children in their 30s." |

Did You Know?
Almost two-thirds of births to women ages 20-24 in 2012 were non-marital (64.8 percent), the age group with the highest number of non-marital births (593,894).
The proportions of non-marital births vary widely by race and Hispanic origin. More than half of all births in DC, Louisiana, Mississippi, and New Mexico were to unmarried women in 2012. Less than one in five births in Utah (18.7 percent) were to unmarried mothers, the lowest of any state.
These geographic variations largely reflect compositional differences by race and Hispanic origin among
states.