Shifting attitudes towards marriage
Earlier generations looked at marriage as their entry point into adulthood and the crucial vehicle for defining themselves as mature individuals.
Impact: There has been a gradual attitude shift: marriage is no longer looked upon as a cornerstone of adult life
Marriage is now what more and more Americans do after they have finished chasing other life goals.
Young men and women today expect to achieve an individual, autonomous identity before they become part of a bound couple. Indeed, settling down has taken on a new meaning.


Exhibit 2-6: shifting attitudes towards marriage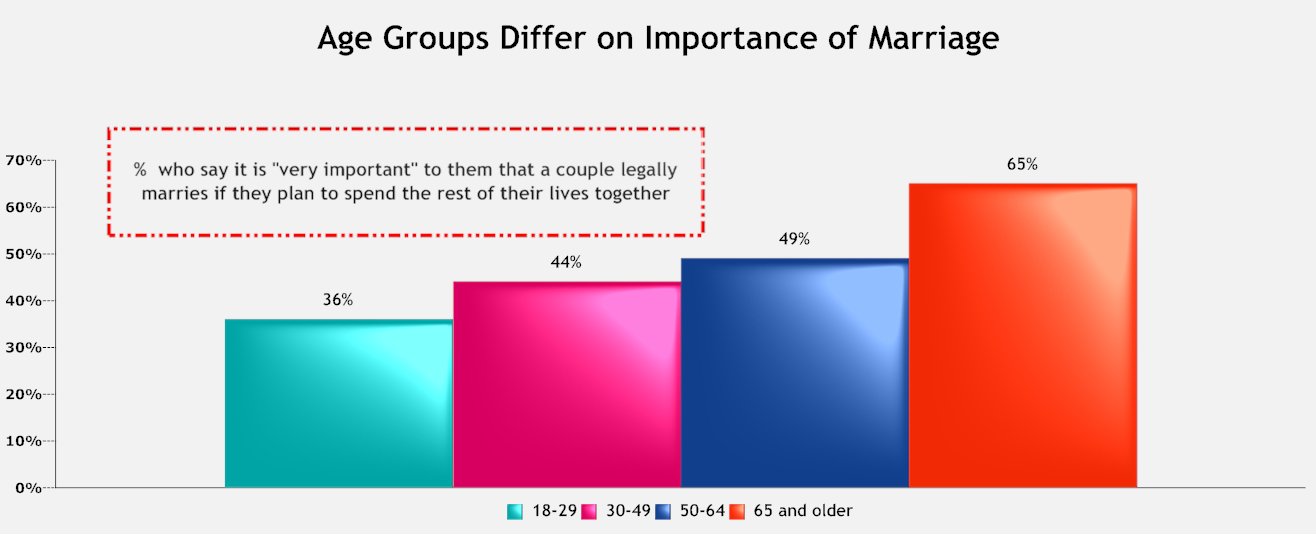 Source: Source: Pew Research Center survey, May 22-25 and May 29-June 1, 2014 (N=2,003), From Pew Research Center publication – September 2014


Exhibit 2-7: Fewer never-married adults expect to get married

Note: "Don't Know/Refused" responses not shown.
Source: Pew Research Center surveys, May 22-25 and May 29-June 1, 2014 (N=2,003) and Oct. 1-21, 2010 (N=2,691)
In general, the twenties and early thirties have been redefined as a time for self-discovery and personal freedom—a crucial life stage before the =burdens' of settling down such as mortgages and college funds for kids set in. Popular shows like How I Met Your Mother and The Big Bang Theory capture this shift in American culture. They feature characters that move in and out of jobs and careers; sip coffee or cocktails with their friends; and meet, share a bed with, dump or get dumped by boyfriends and girlfriends; while ultimately hoping to eventually find the right person to settle with.